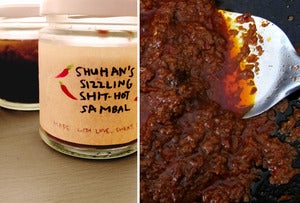 £

4.99
[DROP US AN EMAIL AT plusixfive@gmail.com IF YOU WANNA BUY SHITLOADS THIS SEXY SAMBAL, KNOW ABOUT FUTURE DATES OF DROP OFFS AND FUTURE SUPPERCLUB DATES! :D]
The resident grrrlpower powerpuff grrrl, seasonal produce championer, sambal making extraordinaire, hot babe of plusixfive, ShuHan (@mummyicancook) handmakes her very own chilli with a shiiitlot of ingredients and more importantly, a heck of a lotta sweat, tears and buckets of love.
And after years (ok fine, a week and a half) of armtwisting and blackmailing and .. (ok fine, asking nicely), ShuHan has made a very small batch of sambal sauce for all you lucky punters!
At a very very stupidly reasonable price of FOUR GREAT BRITISH POUNDS AND NINETY NINE PENCE! WOW! You can just about get a pint at your hipster shoreditch local for that price, and you probably wont even get laid. At least, this HOTHOTSEX sambal WILL get you laid (results may vary).
[LIMITED TO ONE JAR PER PERSON! SHARE THE LOVE KIDS!]
*flashflashflash* *IMPORTANT* *flashflashflash*
PICK UP/ DELIVERY DETAILS:
We unfortunately would prefer not to post glass bottles of sambal. God help you if this breaks in your mailbox all over that beautiful lace La Perla package that came in the post as well.
SO PLEASE NOTE THAT THE SAMBAL DROP OFF WILL TAKE PLACE AT:
6PM 30 NOVEMBER 2012 (FRIDAY)
TUBE TICKETING COUNTER OF KING'S CROSS TUBE STATION
THERE'S ONLY THIS ONE SLOT FOR THE SAMBAL DROPOFF unfortunately... Sorry! So if you cant make the above timing, no worries cos we will probably do this again in no time!
YOU NEED TO THEREFORE BE FREE ON THIS TIME AND DATE TO PICK UP THE SAMBAL! :) YAY!
So, how does this work?
(1) Go buy a bottle through the link above (duh). You will receive a confirmation email.
(2) You bring the confirmation email and you and the sambaldropper will meet at the above location under the cover of darkness and we will do the dirty. And also pass you the sambal.
(3) we will not make eye contact.
(4) you will identify the sambaldropper by his/her astounding beauty (and he/she will also be the douchebag holding bags of bottles of sambal).
(5) approach sambaldropper and casually in a nonchalant manner thrust confirmation email in his/her face. Dip chin and giggle coyly as you are handed a bottle of sambal.
(6) you will go home and enjoy the sambal appropriately and/or in throes of wild unbridled unrestrained ecstasy.
Read testimonials here (you gotta scroll down cos humans are extremely longwinded):
http://plusixfive.wordpress.com/2012/10/23/plusixfiveshop-and-round-2-of-the-great-sambal-sale-very-limited-jars-like-very/